Ever find your phone running slowly because of an App you downloaded?
Sasha Booster helps you to manage background processes, freeze unwanted Apps, kill tasks, clean up memory and speed up your device.

Customizable Auto Kill
Sasha Booster allows you to configure the Auto Kill function according to your taste. You can set a designated interval to your phone,
trigger Auto Kill by RAM usage or simply just notify you with the option of killing unwanted Apps manually. Sasha Booster is your bespoke tailor.

Ignored list function
Sasha Booster kills malicious Apps automatically while allowing you to choose what to retain.
You can literally leave your phone to Sasha Booster without worrying killing wrong Apps. Sasha Booster is your mobile butler.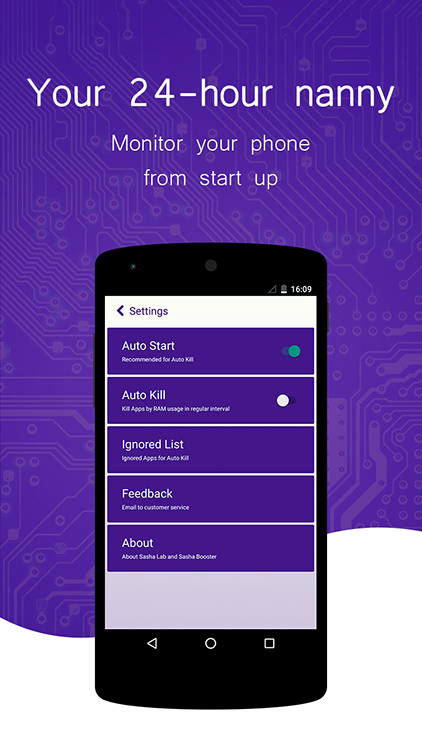 Activation on phone start up
Sasha Booster starts to work whenever you start your phone. As long as your phone is awake,
Sasha Booster will be taking care of your phone. Sasha Booster is your 24-hour nanny.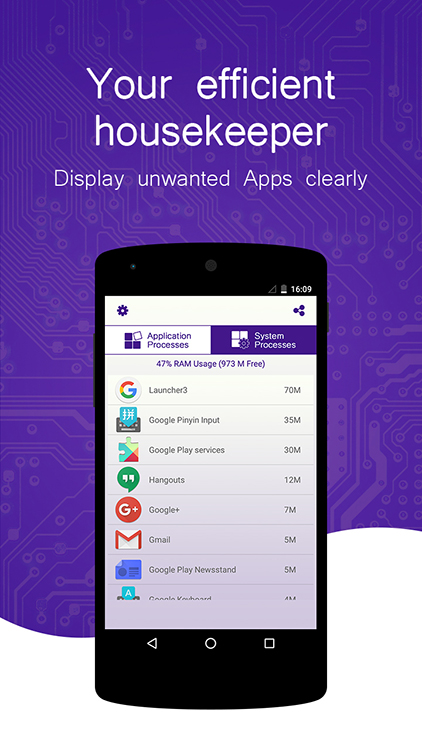 Sorted App list by RAM usage
As long as you open Sasha Booster, you can find all your Apps are clearly listed in RAM usage order, from the largest to the smallest.
Sasha Booster gives you a chance to evaluate your Apps in a practical and neat way. Sasha Booster is your efficient housekeeper.

One tap widget
Want a shortcut to your favorite Sasha Booster? Our widget lets you clean up your phone memory in one tap.
You don't have to go through all your Apps anymore. Sasha Booster is your personal assistant.